Hayley Elizabeth Atwell (born 5th April 1982) is a British actress. She was born and raised in London but also has dual citizenship of the UK as well as the US. She was named after actress Hayley Mills as an only child. Her parents, Alison and Grant, are both motivational speakers who met at a London workshop. She studied acting at the Guildhall School of Music and Drama and had her debut on stage in the play Prometheus Bound in 2005. Hayley Atwell was nominated for Best Supporting Actress for a British Independent Film Award and also for the Golden Globe Award for Best Actress – Miniseries or Television Film.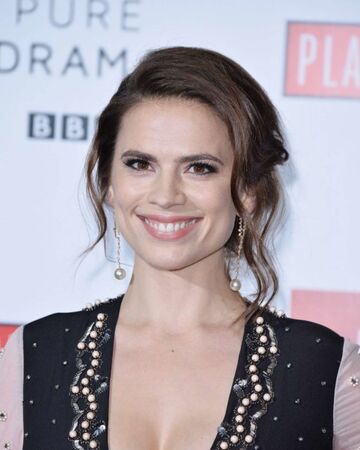 Hayley Atwell Biography
| | |
| --- | --- |
| Name | Hayley Atwell |
| Nickname | Hayley |
| Profession | Actress |
| Debut | Film- Cassandra's Dream (2007)TV – Whatever Love Means (2005) |
| Height | 5'7" or 1.74m or 174cm |
| Weight | 57 kg or 126 pounds |
| Body Measurements | 36-27-36 |
| Tattoo | No |
| Date of Birth | 5th April, 1982 (38 years old in 2020) |
| Zodiac | Aries |
| Birthplace | London, England |
| Hometown | London, England |
| Residence | London, England |
| Religion | Christian |
| Nationality | English |
| School | Sion-Manning Roman Catholic Girls' SchoolLondon Oratory School |
| College/University | Guildhall School of Music and Drama |
| Educational Qualifications | Graduation in acting |
| Father | Grant Atwell |
| Mother | Allison Cain |
| Eye colour | Dark Brown |
| Hair colour | Dark brown |
| Marital status | Unmarried |
| Net Worth | $3 million |
| Hobbies | Reading, Dancing |
Early life and Background
Hayley was born and raised in London, England. She is of Native American and British descent. Hayley grew up an only child in her family and her parents were separated when she was only 2 years old. After that, she lived with her mother in the Ladbroke Grove area of West London while visiting her father during summers in the US. Her mother Alison Cain is English (with Irish ancestry) and while her father is American. Hayley's mother introduced Hayley Atwell to the theatre at a very young age. She attended Sion-Manning Roman Catholic Girls' School in London and took her A-levels at London Oratory School. She pursued a degree in acting at the Guildhall School of Music and Drama and graduated in 2005.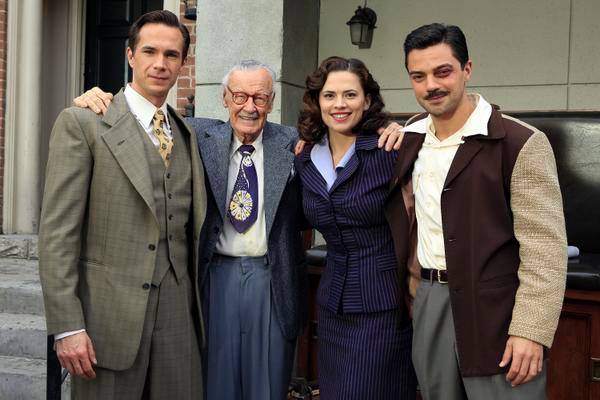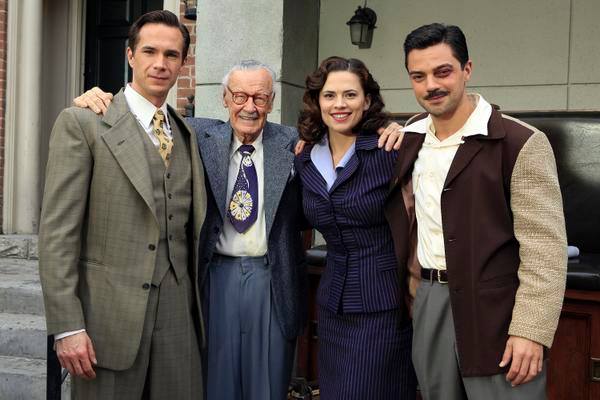 Quotes by the artist
I don't think I'm curvaceous. It's simply that most other actresses are really, stupidly tiny.
I can't imagine it if beauty was the only currency I used as an actress. It just doesn't interest me.
From a very young age, stories fueled my imagination in the most wonderful way.
I love firing guns. It's an amazing feeling – so sexy and powerful.
Documenting trips makes them that much richer. I stick to train tickets and business cards from restaurants. It makes the whole experience poetic, describing the sights, smells and sounds around me. It means I can relive the holiday years later.
Nude scenes can be very liberating. I feel very human. This is me, with all my little imperfections.
My first job was a Greek tragedy, and ever since, one job just seemed to roll onto the next. I've been terribly lucky.
Personal life
Hayley Atwell hasn't been very interested in relationships from the start and is very determined about her career. She wants to keep on achieving more in life. Though, it is known that Atwell was in a relationship with writer Gabriel Bisset-Smith whom she met at college. They started a long-term relationship after being friends for 7 years. Their relationship ended in 2012. She has often expressed regret for not opening up more about their relationship. She is now reportedly singer and hasn't been planning to get married anytime soon.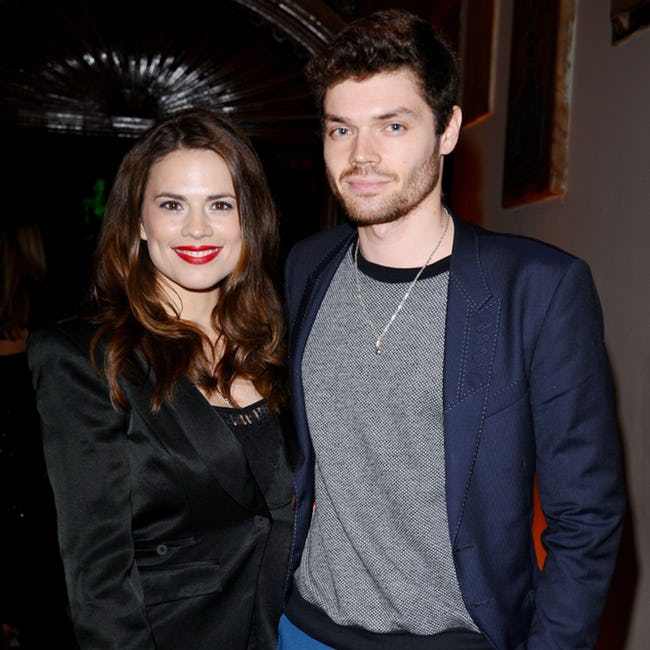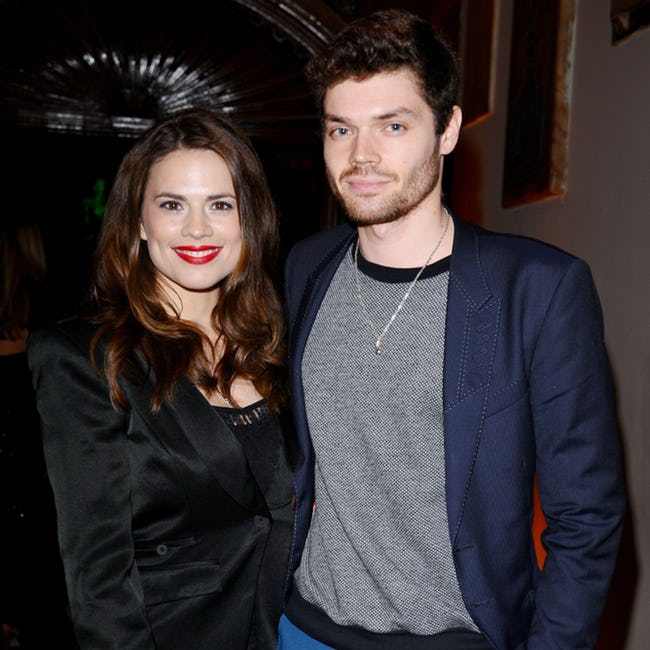 Personal favorites
| | |
| --- | --- |
| Actor | Leonardo DiCaprio |
| Book | The Catcher in the Rye by J.D. Salinger |
| Director | Anthony Russo |
| Cuisine | Chinese |
| Colour | White |
| Destination | Los Angeles |
Career
Atwell appeared in a Pringle's ad after a few months of graduating from Guidhall. She then appeared in her first film Cassandra's Dream which was directed by Woody Allen. She was cast in the film "The Duchess" in 2008 and also worked in "Brideshead Revisited". She was initially criticized about her weight but then the filmmakers accepted her without a need to change her weight. Hayley Atwell is best known for her role as Agent Peggy Carter, the love interest of Captain America, in the Marvel Cinematic Universe and Marvel franchise. She reprised her role as Peggy Carter in the 2013 short film "Agent Carter". She appeared in a live-action adaptation of "Cinderella" in 2015 and played the character Evelyn Robin in the live-action "Winnie the Pooh" film entitled "Christopher Robin". Her latest project includes the three-part BBC adaptation of the novel "The Long Song" written by Andrea Levy.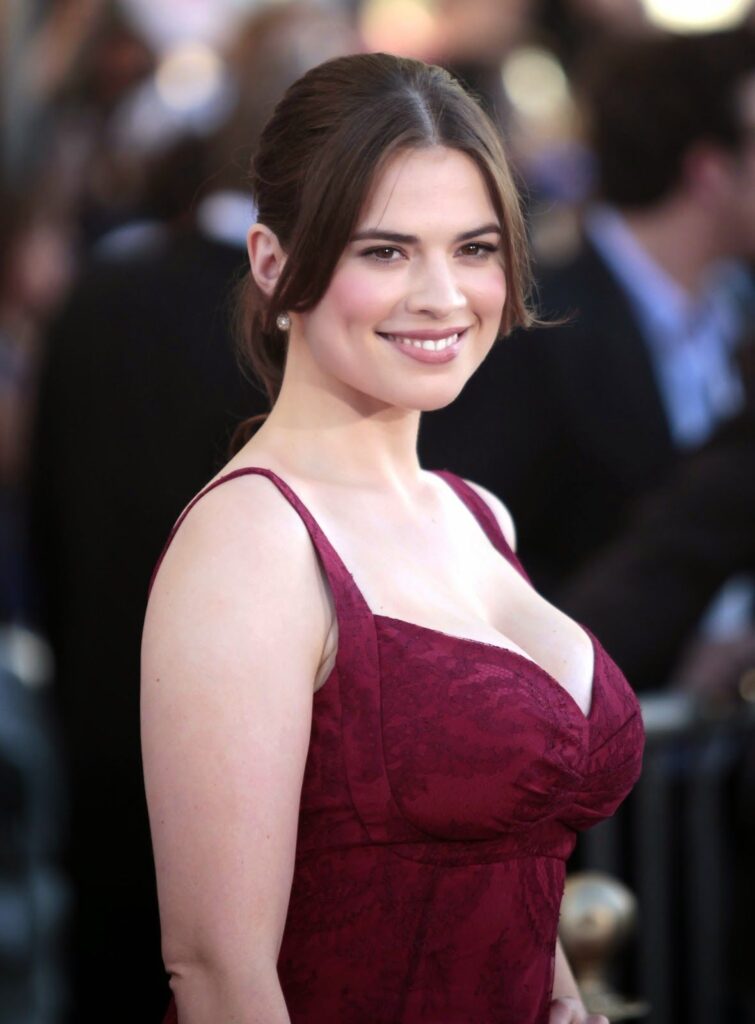 Movies
Cassandra's Dream in 2007 as Angela Stark
How About You in 207 as Ellie Harris
Brideshead Revisited in 2008 as Julia Flyte
The Duchess in 2008 as Elizabeth "Bess" Foster
Love Hate in 2009 as Hate
Tomato Soup in 2009 at Movie Star
Captain America: The First Avenger in 2011 as Peggy Carter
L Anna in 2012 as Emmy
The Sweeney in 2012 as DC Nancy Lewis
Jimi: All Is by my side in 2013 as Kathy Etchingham
Agent Carter in 2014 as Peggy Carter
Captain America: The Winter Soldier in 2015 as Peggy Carter
Testament of Youth in 2015 as Hope Milroy
Cinderella in 2015 as Cinderella's Mother
Avengers: Age of Ultron in 2015 as Peggy Carter
Ant-Man in 2018 as Peggy Carter
Christopher Robin in 2017 as Evelyn Robin
Blinded by the Light on 2019 as Ms Clay
Television
Whatever Love Means in 2005 as Sabrina Guinness
Fear of Fanny in 2006 as Jane
The Ruby in the Smoke in 2006 as Rosa Garland
The Line of Beauty in 2006 as Catherine Fedden
Mansfield Park in 2007 as Mary Crawford
The Shadow in the North in 2007 as Rosa Garland
The Prisoner in 2009 as Lucy/ 4-15
Any Human Heart in 2009 as Freya Deverell
The Pillars of the Earth in 2010 as Aliena
Falcon in 2012 as Consuelo Jimenez
Playhouse Presents in 2012 as The Banker
Restless in 2012 as Eva Delectorskaya
Black Mirror in 2013 as Martha
Life of Crime in 213 as Denise Woods
Agents of S.H.I.E.L.D in 2014 as Peggy Carter
Agent Carter from 2015 to 2016 as Peggy Carter
Lip Sync Battle in 2016 as Herself
Conviction from 2016 to 2017 as Hayes Morrison
Return of the Spider Monkeys in 2016 as Narrator
Avengers Assemble from 2017 to 2019 as Peggy Carter (voice)
Howard's End in 2017 as Margaret Schlegel
The Long Song in 208 as Caroline Mortimer
3Below: Tales of Arcadia from 2018 to 2019 as Zadra (voice)
Criminal: UK in 2019 as Stacey Doyle
What If…? In 2021 as Peggy Carter (voice)
Video Games
Captain America: Super Soldier in 2011 as Peggy Carter
Lego Marvel's Avengers in 2016 as Peggy Carter
Stage
Prometheus Bound in 2005 as Io/ Force
Women Beware Women in 2006 as Bianca
The Man of Mode in 2007 as Belinda
Major Barbara in 2008 as Barbara Undershaft
A View from the Bridge in 2009 as Catherine
The Faith Machine in 2011 as Sophie
The Pride in 2013 as Sylvia
Dry Powder in 2018 as Jenny
Measure for Measure in 2018 as Angel / Isabella
Rosmersholm in 2019 as Rebecca West
Radio
Doctor Who: Blood of the Daleks in 2006 as Asha Gryvern
Felix Holt, the Radical in 2007 as Esther Lyon
The Leopard in 2008 as Angelica
Doctor Who: The Doomwood Curse in 2008 as Eleanor
Doctor Who: The Whispering Forest in 2010 as Seksa
Doctor Who: The Sands of Life in 2013 as President Moorkurk
The Martian Chronicles in 2014 as Spender
The Magus in 2016 as Lily
Ecco in 2017 as Jo Miles
Cassandra at the Wedding in 2017 as Cassandra Edwards
Ode to Saint Cecilia in 2017 as St. Cecilia
The Merchant of Venice in 2018 as Portia
Lesser known Facts
Hayley was 2 years old when her parents split up.
She is a trained horse rider.
Hayley did a course in the art for three months from an open University.
Hayley will voice Peggy Carter in the upcoming animated series What If…?
In Agent Carter's episode A Little Song and Dance, Hayley performed the song "Whatcha Gonna Do (It's Up to You) with Enver Gjokaj. 
Hayley shares her birthday with Sterling K. Brown.